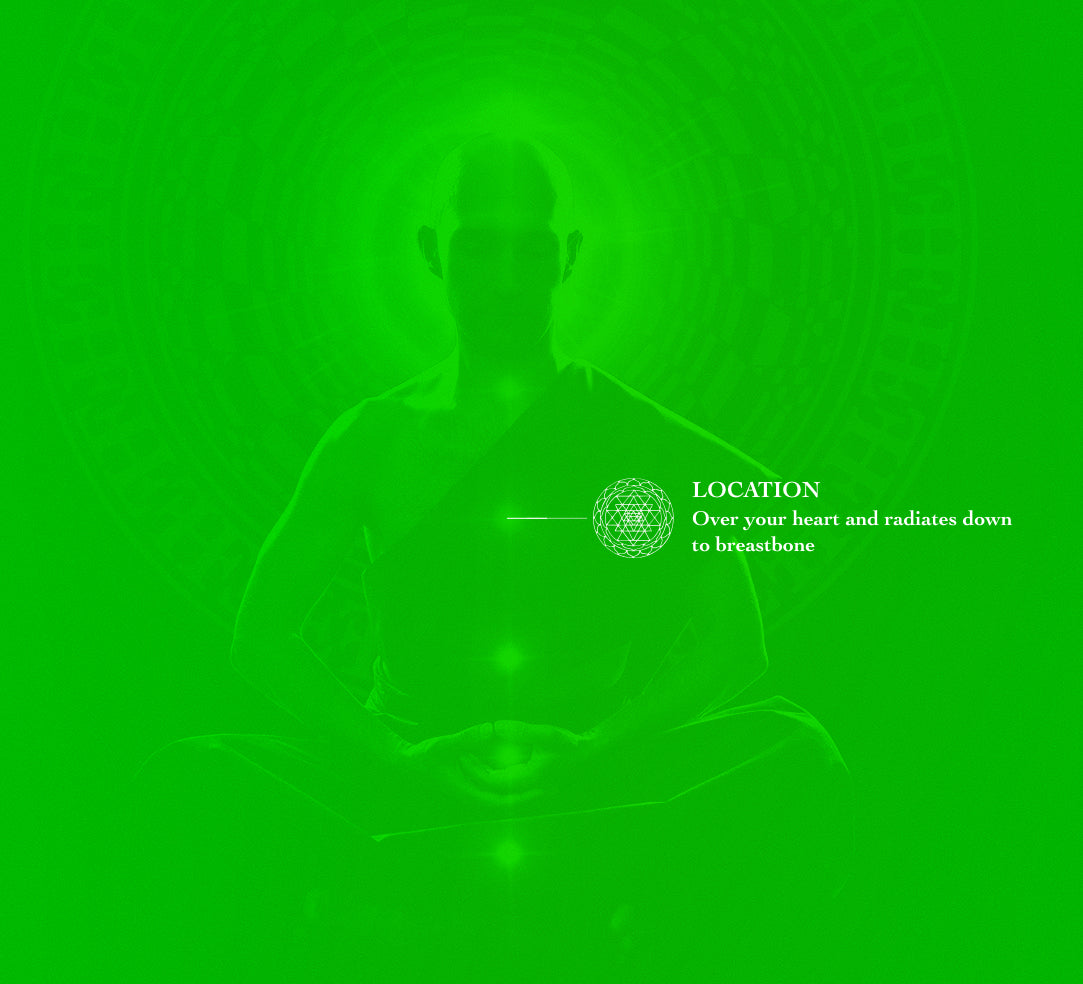 The Heart Chakra
UNHURT/UNSTRUCK HEART
Where love, compassion and kindness are empowered; ability to make decision outside the realm of karma; the place in your heart that feels and sees beyond the pain of negative past experiences, allowing you to sit in the space that is pure where that hurt does not exist and one can make decisions based on one's higher self; following one's "unstruck" heart, not the unfulfilled emotions and desires of lower nature; charity to others; associated with skin and hands, circulatory system, heart and lungs; where unconditional love sits.
COLOR MEANING
Earth tone, healing, fertility, harmony, growth, freshness, – the saying goes that geniuses choose green; inventive, logical, perfectionists, value intelligence, fairness and justice; problem solvers; cool, calm and collected: need explanations and answers; analytical, global and conceptual.
ELEMENT
Air
ASSOCIATED MANTRA
YAM
Inspired by the Solfeggio Frequencies and Chakras
FREQ 04: ASSOCIATED BOTANICALS
TURMERIC
LAVENDER
ROSEMARY
ANGELICA
FRANKINCENSE
ROSE
SANDALWOOD
JASMINE
CHAMOMILE
NEROLI
MELISSA
MARJORAM
YLANG YLANG
HYSSOP
What is the 639 HZ Frequency: the Fourth Solfeggio Frequency
Do certain things give you a heavy heart? You can ease the discomfort by listening to the 639 Hz Solfeggio frequency, also called the frequency of love or the frequency of the heart.
It improves communication, understanding, and, most importantly, love. People use it to solve relationship problems, be it within the family, among friends, or between partners. The 639 Hz frequency stimulates the cell to enhance communication throughout the body. We can attract love or feel closer to those around us.
Frequencies are associated with the different chakras in the human body; 639 Hz resonates with the Heart Chakra located at the center of the chest and governs love, compassion, and harmony.
When our Heart Chakra is balanced, we feel connected to the people and the world around us. With the profound 639 Hz frequency, we can rebalance an imbalanced Heart Chakra.